About the band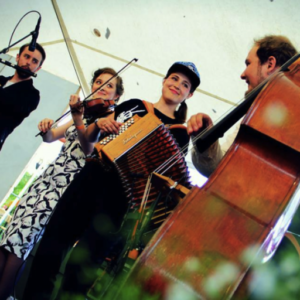 FSQ is a musical cooperation between four young folk musicians from Denmark, Finland and Sweden. The band was formed in the spring 2013, when the members met at the annual Nordtrad conference as part of their music studies at the Danish National Academy of Music (Esbjerg, DK), Sibelius Academy (Helsinki, FI) and Academy of Music and Drama (Gothenburg, SE).
One sunny afternoon by the banks of the river Vilnia marked the beginning of the band; while playing, jamming, chatting and enjoying the sun, a huge dead hog – to everyone's surprise not a sofa – passed by floating in the river.
The idea of the Floating Sofa Quartet was born.
The band has played numerous concerts in Denmark, Sweden, Finland and Austria since their debut in 2015 – including renowned festivals like Kaustinen Folk Music Festival in Finland, Korrö Folkmusikfestival in Sweden and Folklore Global in Austria.
FSQ was nominated in the category "Talent of the year" at the Danish Music Awards Folk 2015, and in September 2016 they received the 1st prize from the Saugmann Bjerregaard Foundation for their new interpretations of the music of D.T.S Bjerregaard.
In November 2016 FSQ released their already critically acclaimed debut album "The Moon We Watch Is the Same"!